So Many Pumpkins
I'm mostly there.  Only three or four boxes remain.  The last 10 days have been a little overwhelming.  The movers just kept bringing boxes up until there were mountains of them and a few paths making me think of Collyer's mansion – two brothers in the early 1900's, infamous for their compulsive hoarding, their brownstone a literal maze of floor to ceiling newspapers and other belongings.  Although I had sold and donated so much, the last week and a half have been a blur of box opening, trying to find each item a proper place and endless trips to the trash/recycling room.  I am not entirely convinced these boxes have not been multiplying during the night.
I am slowly adjusting to the sounds of a city; the frequent sirens and traffic noises in deep contrast to the utter silence of the small, country town where I last lived. My dog has become the mayor of the building, getting loads of attention in the elevator and has taken a surprising liking to our balcony where I sit with coffee while he watches the world go by.
The never ending box opening and furniture assembly, however, are beginning to take their toll and both my manicure and my patience had worn thin, so when my daughter suggested an outing to the arboretum I happily accepted.  The positively autumnal weather was right on point as we stopped for pumpkin spice lattes on our way to the 66-acre gardens' fall pumpkin display.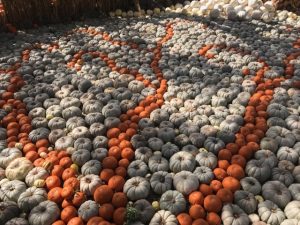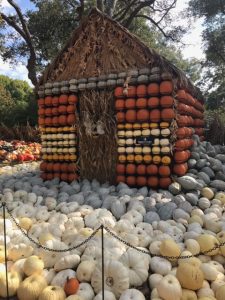 Part of the fun of moving to a new city are the discoveries – a great new restaurant, a cute little boutique not too far from your apartment and this jewel of botanical gardens within the city of Dallas. We walked in the sunshine, a brand new delight around every bend – species of plants I had never seen before, artfully inventive combinations, a free concert on the lawn overlooking White Rock Lake and, of course, thousands and thousands of pumpkins. Every size, color, type and texture is represented here and playfully arranged into cottages, waves of color and even the reins to a horse drawn carriage.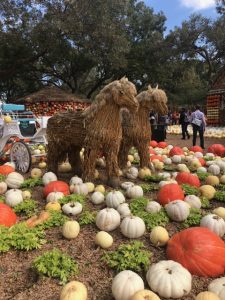 We wandered happily and discovered a European style garden with an infinity pool, an organic vegetable and herb garden where cooking classes are given, a pathway covered by an arched web of trees and huge colorful pergolas with copper roofs along a pathway for an upcoming "12 days of Christmas" display. I can't wait to see the beauty of this magical place in every season.
As I battle my directional disabilities and work on learning the roadways of this new place, try to choose my new supermarket, my new doctors, hair salon, etc., I hope my new home will be much like today – a series of great new discoveries, options I never knew existed and happy surprises. I'm ready.
But for now, I think I'll go home and make some Pumpkin Risotto with Goat Cheese. I THINK I know where the pots are!