Gingerbread Cookies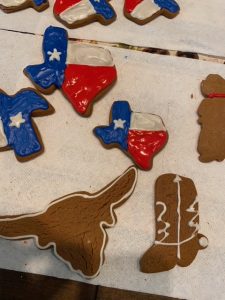 Ingredients:
6 cups unbleached all-purpose flour, plus more for dusting
1 teaspoon baking soda
1/2 teaspoon baking powder
1 cup (2 sticks) unsalted butter, room temperature
1 cup dark-brown sugar, packed
4 teaspoons ground ginger
4 teaspoons ground cinnamon
1 1/2 teaspoons ground cloves
1 teaspoon finely ground pepper
1 1/2 teaspoons kosher salt
2 large eggs
1 cup unsulfured molasses
Directions
In a large bowl, sift together flour, baking soda, and baking powder. Set aside.
In the bowl of an electric mixer fitted with the paddle attachment, cream butter and sugar until light and fluffy. Mix in spices and salt. Add eggs and molasses; mix well. With the machine on low speed, gradually add flour mixture, and beat until combined. Divide the dough into thirds, and wrap each piece of dough in plastic. Chill at least 1 hour.
Preheat oven to 350 degrees. Line baking sheets with Silpat nonstick baking mats or parchment paper. Set aside. On a lightly floured work surface, roll out dough to 1/8 inch thick. Cut into gingerbread boys and girls. Transfer to prepared baking sheets.
To decorate cookies: Press currants into dough to create buttons. Bake cookies until crisp but not darkened, about 20 minutes. Transfer to a wire rack. Let cool completely.
Decorate cooled cookies with icing.
Icing:
2 large egg whites, or more to thin icing
4 cups sifted confectioners' sugar, or more to thicken icing
2-4 teaspoons fresh lemon juice
Directions
Beat the whites until stiff but not dry. Add sugar, lemon juice and glycerin (if using); beat for 1 minute more. If icing is too thick, add more egg whites; if it is too thin, add more sugar. The icing may be stored in an airtight container in the refrigerator for up to 3 days.
Makes about 24 six-inch cookies.