Grilled Lamb Kebabs
Ingredients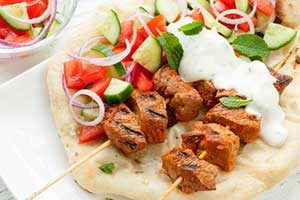 For the marinade:
·        2 lb leg of lamb fat trimmed, cut into 1 1/2 inch cubes
·        1/2 cup olive oil
·        1 lemon juice only
·        3 cloves garlic minced
·        ¼ cup finely chopped fresh mint leaves
·        1 onion sliced
·        1 tsp salt
·        1/4 tsp black pepper
·        1-2 red pepper large, cut into square pieces for the kebabs
·        1 onion cut into chunks for the kebabs
Instructions
1. Place all ingredients for the marinade in a large zip lock bag. Add meat. Make sure the meat is evenly coated in the marinade. Refrigerate for at least 4 hours or up to 2 days.
2. Soak wooden skewers in cold water for 15 minutes.
3. Preheat an outdoor gas grill to medium-high heat (450-500 F).
Skewer meat, onion and peppers onto the skewers.
4. Grill meat for 14-15 minutes, turning once. Check the doneness (remove one of the skewers and check the temperature (145 F is the safe temperature for lamb) or cut through the meat to see it it is cooked). Cook for additional up to 10 more minutes, to reach the desired doneness.
5. Serve immediately, it tastes best when warm.
Serve with yogurt sauce  (made the night before for flavors to combine)–
1 cup Greek-style yogurt, preferably whole milk yogurt (8 ounces/225 grams)
2 tablespoons finely chopped fresh mint leaves.
2 tablespoons extra-virgin olive oil.
2 tablespoons lime juice (from 1 large lime), more to taste.
½ teaspoon salt, more to taste.
1 garlic clove.
Makes 8 kebabs, total of 4 servings.