Italian Wedding Soup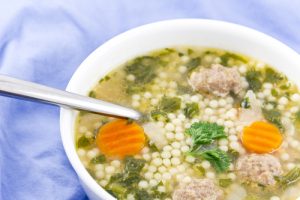 For the Meatballs:
1 small onion, grated
1/3 cup chopped fresh Italian parsley
1 large egg
1 teaspoon minced garlic
1 teaspoon salt
1 slice fresh white bread, crust trimmed, bread torn into small pieces
1/2 cup grated Parmesan
8 ounces ground beef
8 ounces ground pork
Freshly ground black pepper
To make the meatballs: Stir the first 6 ingredients in a large bowl to blend. Stir in the cheese, beef and pork. Using 1 1/2 teaspoons for each, shape the meat mixture into 1-inch-diameter meatballs. Set aside.
For the soup:
·       1 Tbsp olive oil
·       1 1/4 cups 1/4-inch diced carrots
·       1 1/4 cups diced yellow onion
·       3/4 cup 1/4-inch diced celery
·       4 cloves garlic , minced (1 1/2 Tbsp)
·       5 (14.5 oz) cans low-sodium chicken broth
·       1 cup dry acini de pepe
·       6 oz fresh spinach , chopped
·       Finely shredded parmesan , for serving
Instructions
Heat 1 Tbsp olive oil in a large pot over medium-high heat. Add carrots, onions and celery and saute until veggies have softened about 6 – 8 minutes, add garlic and saute 1 minute longer. Pour in chicken broth, season soup with salt and pepper to taste and bring mixture to a boil. Add in pasta and meatballs, reduce heat to light boil (about medium or medium-low). Cover and cook, stirring occasionally until pasta is tender and meatballs have cooked through, about 10 minutes, while adding in spinach during the last minute of cooking. Serve warm, sprinkle each serving with parmesan cheese.
If you like a thinner soup, you can reduce pasta to 3/4 cup. Note that as the soup sits the pasta will absorb more broth so you can add more broth to thin the soup as desired.