What's Missing vs. What Is
There are times when you just have to stop looking at the crevasse/chasm and just relish what is.
My daughter, working in London for the next two months, said, "Come! I'll make all the arrangements. It'll be an early birthday present for you. We'll have so much fun!" And so I race home from work one Friday, change my clothes, grab my suitcase and head to the airport.
Once I'm seated, I find myself forgetting all the worries of home as I listen to the charming English accents of the flight staff. I'm fed a curry and a few other things I'm not sure I can identify, take my over the counter sleep aid and close my eyes.
Upon landing, my weekend adventure begins as I board a train called the Heathrow Express. I sit by the large window looking at the houses along my route and can't get Mary Poppins out of my head. Dick VanDyke is on a constant loop singing, "Chim Chimney". Arriving at Paddington Station, I quickly find my beautiful daughter (the best tour guide around!) beaming at me, hands full of croissants and flat white coffees. We walk a bit (in the rain, of course), drop my things off at her flat and then head for the tube.
We walk through a park, lush and green, and soon we're at Kensington Palace to see all things Diana.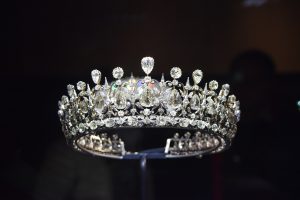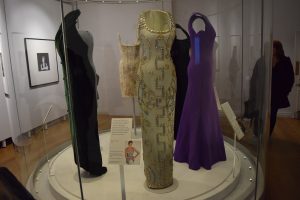 She was beautiful and elegant and had a compassionate heart. She married her prince and thought she knew the trajectory of her life. Then, poof – everything changed and she had to construct a plan from scratch for who she would now be and what her new life would look like. Who among us can't relate?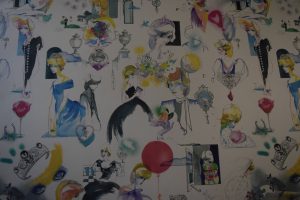 Sodden and soggy, we arrive for our 4:45 reservation for high tea at Fortnum&Mason (https://www.fortnumandmason.com/restaurants/afternoon-tea)  We enter an elegant room with round tables draped in starched white cloths, each laid with beautiful china in Tiffany blue and white. We sat and had the enormous task of trying to choose a tea from probably hundreds of offerings. We decided on both a sweet and a savory tower of treats so we could try a bit of everything, working on the premise that more is more!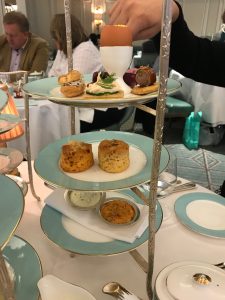 It was the ultimate tea party with my daughter and my dear friend, who happened to be traveling in Europe at the time, having an "Eat, Pray, Love" trip of sorts herself- like Diana, redrawing the lines of her own life, yet again. Our handsome waiter kept bringing us as many new types of tea in lovely little teapots and as many scones and sweets as we could consume. There was never a hint that they needed to turn the table as in the U.S. We could have sat there all night and certainly were tempted to do so!
Eventually, we were beyond satiated and decided we needed to walk off our scones and lemon curd . . . . . . so much lemon curd! We went down a floor or two and entered the magical world of the Fortnum & Mason shop. One wing was entirely Christmas and we delighted in finding the most whimsical, unique ornaments to help remember our visit. The rest was really exquisite kitchen and serving items (Oh, the things I want to do with you!), teas and all related accoutrements. There was also a sweets counter so full of marzipan and nougat it could make you weep.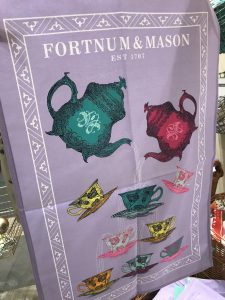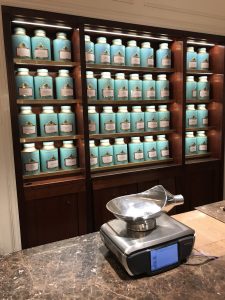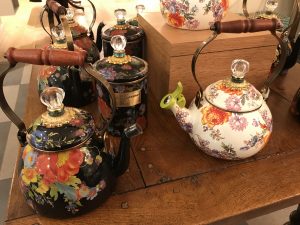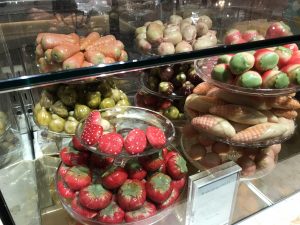 We left with our treasures and began to wander the streets of London. Even as night began to fall, it was somehow even more beautiful, as the intricate architecture is lit to accentuate every facet and archway.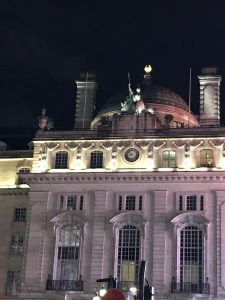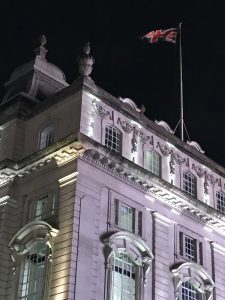 The night was still fairly young, so we found a wine shop and after a lovely chat with its very knowledgeable proprietor, headed back to the flat to rest our weary bones and talk about the following day's plan while sipping a fabulous red.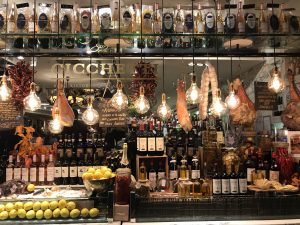 We awoke the next morning to a beautiful sunny day and began our stroll toward Covent Gardens. Our choice for brunch was The Polo Bar, a narrow three-story cafe on Bishopsgate just outside Liverpool Street Station. We order Welsh rarebit and a veggie breakfast club sandwich with roasted mushroom, sautéed spinach, avocado, hash browns, lettuce and tomato with two poached eggs – something old and something new. There were a multitude of condiments on the table and we try a squirt or dab of each one on our food to see if we A.) could identify what it was and B.) if we liked any of them.  The answers were "no" and "no"!   We decided the food was better just the way it came and needed no extra help.
Our next stop was the Tower of London. We discover a group of strangely attired men in large hats – the Yeoman Warders also known as the Beefeaters. In principle, they are responsible for looking after any prisoners in the Tower and safeguarding the British crown jewels, but mostly they are incredible storytellers who charm the pants off of tourists on a daily basis. Besides, could someone wishing to do harm actually find these guys in tights and basically a dress intimidating?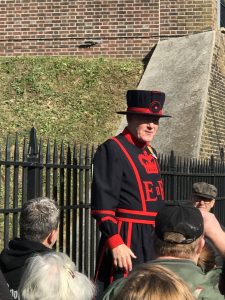 Beefeater Dave with his sparkling eyes and unstoppable wit kept us highly entertained until it was time to visit the crown jewels. A multitude of glistening crowns and scepters with outlandishly large diamonds were in cases before us with the occasional empty stand bearing a sign stating "in use". It's hard to imagine the monetary value of these pieces and equally hard to imagine walking around wearing or holding them. We were dazzled.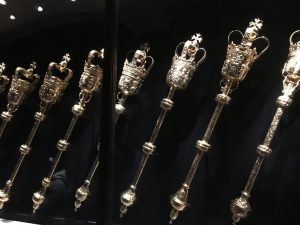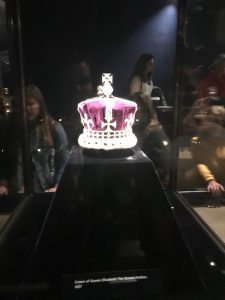 We made it to Whitehall a little before 4PM to catch the nightly Dismounting Ceremony of the Queens Mounted Guards. The unit parades into the courtyard and is inspected by an officer (translation, one funny dressed guy yells at some other funny dressed guys on horseback) before the mounted guards take the horses back to the stables for the night. The horses, however, are magnificent and I wonder what they must think of us humans during this nightly ceremony. If horses could roll their eyes, they surely would.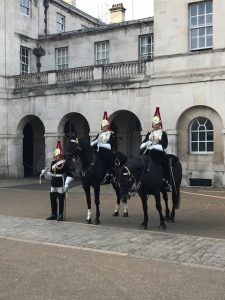 Some more wandering and meandering took us to another quaint pub (as so often happens in London) and we sat down to enjoy an evening meal, a few pints and talk about the highlights of the day.
On Monday, the final day of my adventure, I spend my last few hours in Piccadilly Circus with my friend watching a street performer and happily wandering through the flea market and shops there. I bought a corkscrew for Christina (as we had to open our wine that first night with a pen!) and found Laduree, ducking inside to get a box of our favorite macarons so she'd have something to make her smile at the end of her workday.
Christina uses her lunch break to meet me back at the flat and say goodbye, pressing a tin of Fortnum & Mason Countess Grey Tea into my hand (the kind I enjoyed so much at High Tea) She actually thanked me for coming (!) and told me it went too fast and how happy it made her that I came. And then she hugged me tightly. That was worth more than all the Crown Jewels we had seen the previous day.
I made my way back to Heathrow to begin the long journey home with a fuller heart than when I came. I can't stop thinking about how fortunate I am to have had such a fascinating adventure with one of the people I love most on the planet.
There are things that are missing from my life, empty holes in a place or two, but this weekend my lovely daughter managed to fill them all up with her fervent love . . . and then some.