Blueberry Buttermilk Pancakes
Ingredients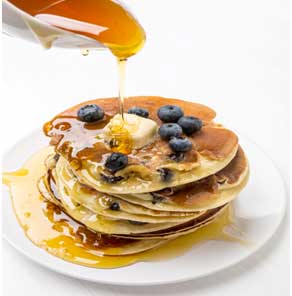 2 eggs
2 cups all-purpose flour, sifted
4 Tbs. sugar
2 -1/4 tsp. baking powder
1 tsp. baking soda
1 tsp. salt
2 1/4 cups buttermilk (add additional drizzles to thin batter as necessary)
4 Tbs. (1/2 stick) unsalted butter, melted
1/2 tsp. vanilla extract
2 Tbs. melted butter, plus more for cooking
1 cup fresh blueberries
Confectioners' sugar for dusting
Softened butter for serving
Warm maple syrup for serving
Directions:
Preheat an oven to 200ºF.
In a bowl, using an electric mixer, beat the eggs on medium speed until frothy. Add the sifted flour, sugar, baking powder, baking soda, salt, buttermilk, melted butter and vanilla. Stir just until the batter is smooth and no lumps of flour remain; do not overmix.
Heat an electric griddle to medium-high heat until a few drops of water flicked onto the surface skitter across it. Lightly grease the griddle with butter. . Ladle about 1/3 cup batter onto the griddle for each pancake. Scatter 1 Tbs. blueberries evenly over each pancake. Cook until bubbles form on top and the batter is set, 1 to 2 minutes. Using a spatula, flip the pancakes and cook until golden brown on the other side, 2 to 3 minutes. Transfer to a baking sheet and keep warm in the oven while cooking the remaining pancakes.
Dust the pancakes with confectioners' sugar and serve warm with butter and maple syrup. Makes about 16 pancakes; serves 4.