Butternut Squash Soup
INGREDIENTS: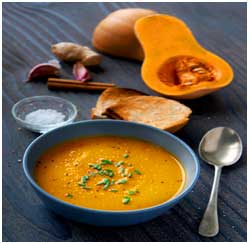 ·        1 large butternut squash (approx. 3 lbs.), halved vertically and seeded
·        1 C diced carrot
·        2 tart apples, peeled and diced
·         1 onion, diced
·        4 C Vegetable stock
·        ½ C coconut milk
·        3 minced Garlic cloves
·        1 t chopped fresh sage
·        1 t salt
·        ½ t black pepper
·         1/3 t cinnamon
·        1/3 t nutmeg
Directions:
1. Roast butternut squash for 1 hour at 425.
2. While squash is in the oven, sautee garlic, diced carrot, onion and apples in butter until softened.
3. Combine all ingredients in soup pot with the exception of the coconut milk and simmer 30 minutes.
4. Blend with an immersion blender to puree the soup until smooth or you can transfer the soup in batches to a traditional blender and puree.
5.  Lower heat and slowly add the coconut milk being careful not to boil once this addition is made.
Adjust the seasoning to taste adding more salt or pepper if necessary.