Chocolate Lava Cake
Ingredients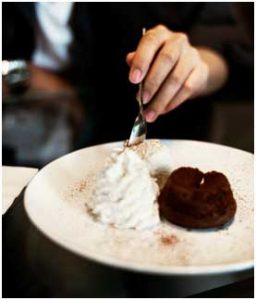 ·        1/2 cup (1 stick) unsalted butter
·        6 oz. cup bittersweet chocolate
·        1 1/2 cups powdered sugar
·        3 large eggs
·        2 large egg yolks
·        2 teaspoons vanilla extract
·        1/2 cup all-purpose flour
·        1/4 cup unsweetened cocoa powder
·        2 tablespoons dark (Dutch-processed) cocoa powder
·        1/2 teaspoon kosher salt
·        additional powdered sugar (for garnish)
Directions
1.     Preheat the oven to 350 degrees F, and mist six 4-ounce ramekins with non-stick spray.
2.     Place the butter and chocolate chips in a large microwave-safe bowl, and microwave in 30-second increments, stirring, until completely melted.
3.     Add the powdered sugar, and stir until smooth.
4.     Stir in the eggs and yolks, one at a time, until completely incorporated.
5.     Stir in the vanilla.
6.     Add the flour, cocoa, and salt, and stir until blended.
7.     Transfer the batter to the prepared ramekins, and bake for 16 to 20 minutes, or until set around the edges but still wobbly in the centers.
8.     Cool for 20 minutes, then invert the cakes onto serving plates and dust with powdered sugar.
Vanilla-Scented Whipped Cream
Ingredients
1 cup (1/2 pint) heavy or whipping cream
2 teaspoons pure vanilla paste or extract
2 teaspoons confectioners' sugar
Directions
1.     Beat the cream and vanilla in a chilled non-reactive bowl with a whisk or an electric mixer just until they hold a loose peak. (Lift the beater from the cream and look at the shape of the peak at the end of the whisk; it should hold a lazy curve.) Sift the sugar over the cream and continue to beat just until it holds a soft peak. Take care not to over beat the cream.  Serve, or refrigerate covered for up to 4 hours.