Citrus-y Salmon
Ingredients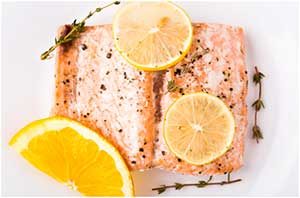 ·        Olive oil
·        Salmon filets
·        Salt and pepper
·        Sliced oranges
·        Fresh thyme and parsley
·        Flavored butter (below)
Directions
1.     Preheat grill for medium heat.
2.     Season the salmon with salt and pepper.
3.     Stack orange slices on grill topped with the fresh thyme and parsley and then the salmon.  Dab the flavored butter on the fish.
4.     Cover and cook until fish is opaque in center (no need to turn), 20 to 30 minutes.
Orange-Herb Butter
Mash together 1 stick unsalted butter; 1/2 teaspoon grated orange zest; 2 teaspoons fresh orange juice; 1/4 teaspoon cayenne pepper; 1 clove garlic, minced; 2 tablespoons chopped parsley; and 1/2 teaspoon coarse salt.